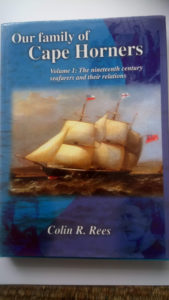 Volume 1: The nineteenth century seafarers and their relations.
Designed, printed and published by D. W. Jones(Printers) Ltd. 2000.
Hardback. Condition, as new. Dustjacket as new. xiv, 178 pages. Bright blue cloth boards in excellent condition.
No markings or clipped.
He also co-authored 'Captured at Sea – Merchant Ships captured in the south west seas of Britain in the time of Napoleon 1803 – 1815' with Professor Peter Clark.
£15 p&p extra. Cat no. 173.