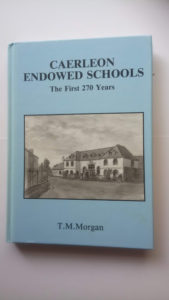 Published by Williams's Schools, Caerleon 1994. ISBN 0952428806.
The original, Caerleon Endowed Schools 1724 – 1983  was published in 1983. This recent edition has some information for the years up to 1994.
A very good, clean hardback copy. No inscription, doesn't seem to have been read. I believe there was no dust jacket to this edition. 133 pages.
£25 p&p extra. Cat no. 143