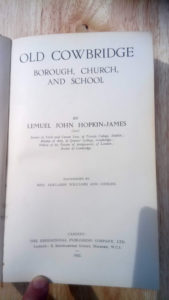 The author – Rector of Cowbridge, Llanblethian Vicarage, Cowbridge.
Published by The Educational Publishing Company, Ltd. 1922.
Hardcover. Condition: Fair. No Jacket. Some wear on top left-hand corner, and some fading to front and back cover, spine in good condition, gold lettering clear. Tanning to front and back end pages.
xvi and 327 pages. 3 maps and 32 illustrations.
£15 p&p extra. Cat no. 184