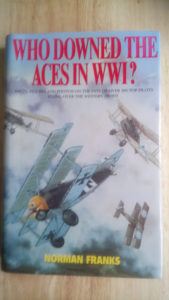 Facts, Figures and Photos on the Fate of Over 300 Top Pilots Flying Over the Western Front
Published by Grub Street 1996. ISBN 1898697515. 218 pages, 24 pages of black and white photos of airmen.
Hardcover. Condition very good. Dustjacket very good, unclipped. A good, clean copy. As new.
£10 p&p extra. Cat no. 204.