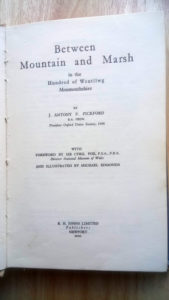 By J. Antony F. Pickford B.A. Oxon. President Oxford Union Society, 1944.
Foreword By Sir Cyril Fox, P.S.A., F.B.A. Director National Museum of Wales.
R.H. Johns Limited Publishers Newport, 1946. Limited edition. No 22 of 225.
Hardback. Condition: Good. 173 pages, 8 illustrations by Michael Edmonds and pictorial map at end pieces. Blue cloth with a quarter white cloth spine, gilt. Corners bumped, signs of age and discolouring on covers. Some tanning inside.
£20 p&p extra. Cat no 213