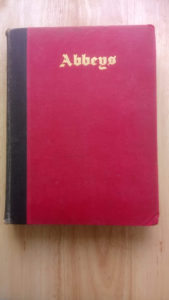 By M. R. James, LITT.D., F.S.A., F.B.A. Provost of Eton, with an additional chapter on "MONASTIC LIFE AND BUILDINGS" by A. Hamilton Thompson, M.A., D.LITT., F.S.A. Professor of Medieval History in the University of Leeds.
Published by The Great Western Railway. Second Impression 1926.
Hardcover. Condition Fair. No dust jacket. Black and red cloth.  A little tanning to end pieces and a little foxing. Binding quite firm, bumps to corners.
Author's personalised inscription and signature to title page.
153 pages, 100 illustrations, 56 drawings, 13 plans and 7 colour plates, no map.
£15 P&P extra. Cat no. 212